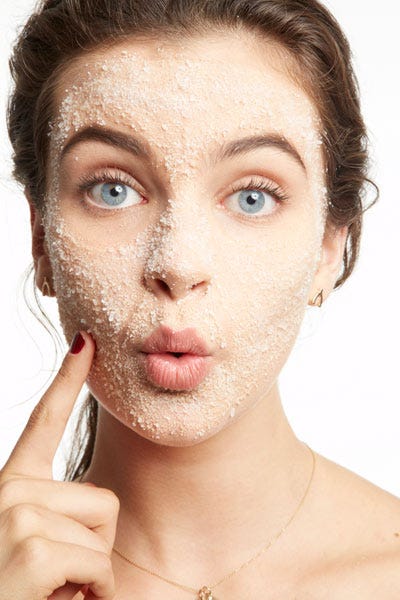 Get ready for your prettiest, most confident year yet. Kick your skincare routine into high gear with these blemish-busting and pimple-preventing tips to get flawless skin by the time you head back to school.
1. Always wash your face before bed. Not washing away the day's grime? You're asking for a breakout. Stash cleansing wipes on your nightstand for nights when you're too tired to move.
2. Don't skimp on sudsing. Wash your face for 30 to 45 seconds with a dime-size amount of cleanser. That's how long it takes to clear dirt and oil off your face.
3. Use lukewarm water when washing your face. Hot water dries out your skin, and cold water won't open up your pores.
4. Be gentle. Scrubbing too hard leaves skin rough and red. Skip harsh scrubs and even washcloths, which can be too rough on your face and can cause irritation. Use your hands instead. Be sure they're clean, or you'll transfer acne-causing dirt and oil right back!
5. Suds up your cleanser in your hands first. It helps activate the ingredients, so they are more effective when applied to your face!
6. Don't skip your morning wash. Hairstyling products get absorbed by your pillowcase then transfer to your skin — if it's not cleared away in the A.M., it'll clog your pores!
7. Try a cleansing brush. Sometimes even after you wash, there's makeup left on your skin, and that buildup leads to breakouts. Using an exfoliating brush with your basic cleanser loosens and removes the leftover makeup that has seeped inside your pores! The brush can get deeper into your skin than just your soaped-up fingers.
8. Don't overwash. If your skin still feels oily, instead of washing again (which can make your skin produce even more oil!), try an astringent after cleansing.
9. Exfoliate. The trick is to remove the layers of dead skin cells and dirt that are blocking your pores — and your skin's natural glow. Products with alpha hydroxy and lactic acids exfoliate gently to make you look radiant.
10. Wash, then exfoliate. When washing, first use a mild face wash to cleanse your skin. Then, lightly massage exfoliator onto your face. This may seem redundant, but before you exfoliate, you want a clean canvas, so that the exfoliant can focus on digging out the stubborn dirt and oil that are stuck deeper inside your pores.
11. Turn on the rinse cycle. Left–over cleanser equals left–over dirt and oil. Rinse with tepid water till skin feels clean and smooth and no longer slippery or soapy.
12. Exfoliate in the shower. The steam helps open pores, so the grains can really dig out the grime!
13. Pat skin dry. Rubbing can rub skin the wrong way.
14. Fight acne with a 3-step approach. If you have acne, dermatologists recommend fighting it with a three-step regimen: a salicylic acid cleanser, a benzoyl peroxide spot treatment, and a daily moisturizer.
15. Unclog pores with an all-natural treatment! Whip up a spa-worthy mask right in your own home using strawberries—they're a great natural exfoliant! This mixture will help smooth bumps and unclog pores. Mix together equal parts mashed strawberries and plain yogurt. Spread the mixture on clean skin and leave on for 10 to 15 minutes, then rinse with warm water. Follow with alcohol-free toner and moisturizer.
16. Use a clay mask. The ingredients will penetrate deep into your skin and clean out excess oil and bacteria. It's also an exfoliator to open pores and get rid of the gunk clogged inside!
17. Keep it simple. Too many products can irritate and too many steps may tempt you to skip.
18. Step away from the pimple. Popping can cause infections, making the sitch worse. Instead, dab a sulfur treatment on problem areas morning and night. It brings down swelling until your zit disappears.
19. See a derm. At-home treatment not working? See a dermatologist. A few appointments to set up a regimen, plus, check-ins every three to six months may get you in the clear!
20. Go easy on the zit cream. Benzoyl peroxide products are great at fighting pimples, but can be drying to your skin, so use them only once a day (or every other day). If it's drying out or irritating your skin, switch out your cleanser for a gentle formula. (Keep up your regular acne spot treatment, but use just a dab!) It will clear away dirt and oil without stripping your skin of moisture. Salicylic acid (in creams, gels, astringents or masks) dries less than benzoyl peroxide, so it can be used with more-drying cleansers.
21. Try a DIY oatmeal treatment. If you've got a bad pimple problem, try a simple home remedy! Cook oatmeal as directed on the package. Let cool, and then stir in lemon juice and egg. Dot mixture on pimples and leave on overnight. (Store the leftovers in the fridge for up to a week.) The oatmeal's antioxidants will bring down swelling, while the acid in the lemon kills bacteria in your pores. The vitamin E in the egg will tighten skin so it appears perfectly smooth.
22. Don't wait until you see a breakout to treat it. If you tend to break out on the reg, avoid flare-ups by using a benzoyl peroxide face wash, or by applying a thin layer of a benzoyl peroxide spot treatment to your whole face before bed. It will kill any bacteria that could cause zits to sprout.
23. Brush off breakouts. Make sure to wash your makeup brushes regularly with brush cleanser or baby shampoo. If you use makeup sponges, use disposable ones and discard them after each use. These tools can accumulate bacteria, which can lead to breakouts. Dirty brushes can make the most expensive skincare routines go to waste.
24. Keep your hair off your face. Oil, dirt, and product from your hair can get on your face and clog your pores. Keep hair totally clean and try to keep conditioner and other hair product away from your skin. And try to keep your hair off your face.
25. Stick with it. If you want great skin, care for it each day. Sporadic care won't do it. And don't expect any overnight miracles. It takes time for skin-clearing ingredients to kick in. Starting a skincare routine now will give you plenty of time for your skin to adjust by the time you walk through those double doors.
26. Moisturize. Acne treatments dry out blemishes and the rest of your face! Slather on an oil-free moisturizer with sunscreen every day to keep your skin smooth and protected. Choose an oil-free, noncomedogenic (non-clogging) formula.
27. Handle with care. Gently stroke on toner, moisturizer, medication and makeup. This saves skin and delivers the best coverage.
28. Use SPF daily. Sunscreen isn't just for summer—your skin needs protection every day, even in winter. There are now sunscreens for every skin type imaginable—even ones that help make your skin less oily, so your face stays matte and pimple-free! Look for a daily moisturizer with SPF that says it's "lightweight," "oil-free," or "oil-controlling." For the highest level, look for a PA++ rating, it covers both UVA and UVB rays, so you're guarded against everything from burns to future wrinkles!
29. Carry oil-absorbing sheets in your bag. Use them to blot away any shine that pops up while you're out and about.
30. Use toner on your T-zone. Your T-zone may be oilier, so it needs more love! Swipe the area with a cotton pad soaked in a toner that contains salicylic acid (it unclogs pores!) to get rid of extra gunk.
Read more:
7 bad habits that creates wrinkles around your eyes